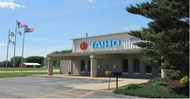 SIEDC, the City of Tiffin's Government and many other distinguished guests helped celebrate Taiho Corporation of America's Vacuum Pump Ceremony and 20 years of production on Tuesday, July 11. Taiho invited guests to share and celebrate with us the start-up of our new assembly line for the vacuum pump.
This is a product solely used by Toyota Motor North America currently. Our "New Team Taiho" shared their commitment statement and we also had the ceremonial tightening of the bolts on our new vacuum pump. This replaced the ceremonial ribbon cutting.
Taiho Corporation of America is located in the North Star Industrial Park and currently resides in two locations. We established our first production plant (194 Heritage Drive) in Tiffin Ohio in 1996 and started producing just piston shoes and bushings for 2 customers. In 2000, we established our 2nd plant (162 Heritage Drive) and began producing die cast aluminum parts for Toyota. Over the years we have added several new lines and now provide engine bearings, bushings, piston shoes, wheel balance weights and now the vacuum pump.
Taiho has grown significantly as a company over the past 20 years from 70,000 square feet to 187,500 square feet and now covers over 20 acres between both buildings. Taiho employs nearly 300 team members and operates 3 shifts/5 days per week. In the near future, we will see additional business and expansion opportunities here in Tiffin, Ohio.